The Fires of Vengeance (The Burning #2) (Hardcover)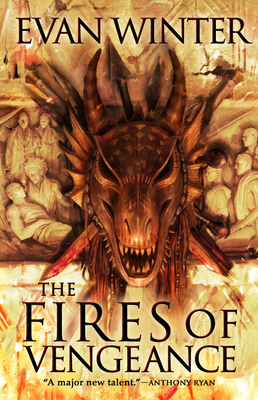 $28.00
Usually Ships in 1-5 Days
Other Books in Series
This is book number 2 in the The Burning series.
"Where we fight.....the world burns!"
If you haven't read The Rage of Dragons by Evan Winters yet, do yourself a favor and go read that immediately! You won't regret it and it will get you one step closer to being able to start The Fires of Vengeance.
I have been working on a goal to diversify my reading, ensure I am reading plenty of works by BIPOC authors, and to make sure to incorporate books that have diverse characters because representation definitely matters.
What struck me and made me so excited about Evan Winter and The Burning series before I even started the books was an interview with him where he stated:
"But the reason my thinking actually turned to writing, when it so often doesn't, was because of my son. I wanted him to have this story because, when I was growing up, it didn't exist. I wanted him to have an epic that regarded the world from a vantage point closer to his identity and his humanity."
All this to say this is a series that I recommend to everyone who will listen and will re-read them throughout the years. I cannot wait for the third installment of this 4 book series.
Dear Evan,
I just finished The Rage of Dragons and am devastated it's over. I am a fan of fantasy and have read a lot over the years. My favorite fantasy authors are Neil Gaiman, N. K. Jemisin and Nnedi Okorafor. You are now easily my favorite. Your world building is outstanding, the representation for those underrepresented for far too long in the fantasy genre is amazing and so appreciated, your demons in isihogo are nightmare inducing and fresh, and Tau is a phenomenally complex main character. Representation matters and you brought your A game showing diversity of characters. I need more than 5 ⭐️ for this one.
Thank you,
Erin
The Burning Series follows lead character Tau, part of the Omehi people who are divided into two Chosen Castes, the Nobles and the Lessers. Tau, a member of the Lesser Caste, dreams of more for his life, encounters blow after blow that drives anger, rage and eventually vengeance.
With the racial and social unrest in the United States, the dynamic between the Lessers and the Nobles was really fascinating to read through the current lens. I couldn't help but draw comparisons to the racial injustices in America today.
"Where did Lessers stand in a world of dragon callers, colossal warriors, and illusion-wielding tribespeople went to war again immortals?" Where do they stand? In a place of strength, power, and inspiration. I would rather stand shoulder to shoulder with the Lessers than the Nobles any day of the week!  
With everything happening in the US now, these books really made an impact for me and were thought provoking far beyond a traditional fantasy series. If you are a fan of fantasy books, looking to get started in the genre, or are looking for diverse characters in an epic fantasy series, I urge you to go with Tau on his journey of pain, loss, war, friendship and ultimately finding the "family" that has his back through it all!
— Erin Dewsbury-Ribeiro
Description
---
In this "relentlessly gripping, brilliant" epic fantasy (James Islington), an ousted queen must join forces with a young warrior in order to reclaim her throne and save her people.

Tau and his Queen, desperate to delay the impending attack on the capital by the indigenous people of Xidda, craft a dangerous plan. If Tau succeeds, the Queen will have the time she needs to assemble her forces and launch an all out assault on her own capital city, where her sister is being propped up as the 'true' Queen of the Omehi.

If the city can be taken, if Tsiora can reclaim her throne, and if she can reunite her people then the Omehi have a chance to survive the onslaught.

"This gritty series set in a South African–inspired fantasy world is an intense reading experience, and the second book is just as phenomenal as the first."—BuzzFeed News

"The Fires of Vengeance is epic fantasy at its finest."—Winter Is Coming

The Books of The Burning Series
The Rage of Dragons
The Fires of Vengeance
The Lord of Demons
About the Author
---
Born in England to South American parents, Evan Winter was raised in Africa near the historical territory of his Xhosa ancestors. Evan has always loved fantasy novels, but when his son was born, he realized that there weren't many epic fantasy novels featuring characters who looked like him. So, before he ran out of time, he started writing them.
Praise For…
---
"Winters's stunning debut fantasy epic is rich in complex characters and a well-wrought world with both European and African influences. ... This impressive series launch holds tremendous promise."—Publishers Weekly (starred review) on The Rage of Dragons

"People ask the last book I couldn't put down, and I tell them The Rage of Dragons. The tension rises with every page until you fear it will break you in two."—Peter V. Brett, New York Times Bestselling Author of The Warded Man on The Rage of Dragons

"Expertly structured with a keen eye for action and character, The Rage of Dragons is a captivating epic heroic fantasy from a major new talent."—Anthony Ryan, author of Blood Song on The Rage of Dragons

"The Rage of Dragons takes the best parts of epic fantasy and sets them in a refreshing and inventive new world, a gripping tale that makes clear the true cost of war and colonialism with one of the most enthralling hero's journeys I've read."—S. A. Chakraborty, author of City of Brass on The Rage of Dragons

"Compelling, expansive and rich. Winter has created an exciting and immersive world of magic, vengeance and wonder"—Micah Yongo, author of Lost Gods on The Rage of Dragons

"A refreshingly brutal and imaginative tale of survival and revenge. Evan Winter's battles are visceral, bloody masterpieces, and Tau's climb from exiled Lesser to legendary warrior is earned in a way few writers could hope to match."—David Dalglish, author of the Shadowdance Series on The Rage of Dragons

"A Xhosa-inspired world complete with magic, dragons, demons and curses, The Rage of Dragons takes classic fantasy and imbues it with a fresh and exciting twist."—Anna Stephens, author of Godblind on The Rage of Dragons

"Wow. This book hits the ground with stunning action and danger, and it barely lets up as the pages fly by. I loved the African-influence culture, the unique use of dragons and demons, the complex martial and class hierarchy, and it has a magic system unlike anything I've seen before. What a terrific set up for a series!"—David Anthony Durham, author of The Acacia Trilogy on The Rage of Dragons

"Winter's debut will draw strong comparisons to George R.R. Martin and Brandon Sanderson, and the strong African influences and ties create a singular, exciting epic with intriguing characters and culture. Readers will be clamoring for the next installment."—Library Journal (starred review) on The Rage of Dragons

"Intense, inventive and action-packed from beginning to end - a relentlessly gripping, brilliant read."—James Islington, author of The Shadow of What Was Lost on The Rage of Dragons

"The Rage of Dragons is an uncompromisingly brutal fantasy in a unique, fascinating world I want to see a lot more of. Fans of Anthony Ryan's Blood Song will love this."—Django Wexler, author of The Thousand Names on The Rage of Dragons

"A unique military fantasy....The fast-paced action will have readers eager to follow Tau into the next book of this captivating epic."—Booklist (starred review) on The Rage of Dragons

"The Rage of Dragons is what fantasy was always meant to be. Winter will pull you into a world of revenge, war, and fire. This isn't just a book, it's an unforgettable experience."—Sean Grigsby, author of Smoke Eaters and Daughters of Forgotten Light on The Rage of Dragons

"Intense, vivid and brilliantly realized - a necessary read"—Anna Smith Spark, author of The Court of Broken Knives on The Rage of Dragons

"Page-turner replete with demons, dragons, and really bad dreams...fantasy fans will find this an absorbing, fast-paced table-setter. "—Kirkus on The Rage of Dragons