World Food for Student Cooks: Healthy, Delicious, Easy-To-Make Dishes for the Food-Truck-Loving, Noodle-Slurping, Taco-Crunching, Mac-N-Cheese--Lovi (Paperback)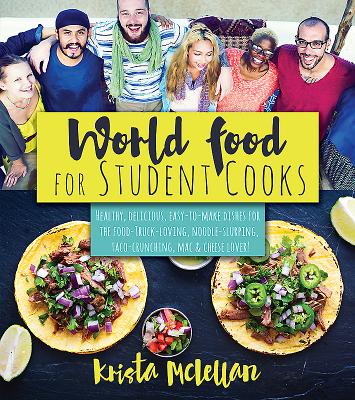 $18.65
Email or call for price.
Description
---
A student cookbook with a difference, World Food for Student Cooks offers 170 quick, cheap and tasty recipes featuring the best of the world's cuisines -- Chinese, Thai, Mexican, French, Italian, Middle Eastern, Japanese and more. These are recipes for food that students want to eat, can afford and can make at home with only basic cooking skills The ingredients are inexpensive and the results are healthy as well as tasty. Tacos and noodle bowls, mac n cheese, curries and pizzas, smoothies, cookies, brownies and more Cookbook features include: Requires only essential pieces of kitchen equipmentUses staples on hand in every kitchenUses inexpensive ingredients available at any grocery storeFocuses on recipes that are popular with students todayHealthy dishes that highlight fresh veggies, fruit and nonprocessed foodsWorld food -- inexpensive, healthy recipes from Asian, Indian, Mexican, Middle Eastern and other international cuisinesLots of vegan and vegetarian recipes and optionsThis book will be a favourite for students, and will help parents rest easy knowing that young people can use it to cook the food they love -- and can afford.
About the Author
---
KRISTA McLELLAN is a registered dietitian, passionate home cook and ethnic food enthusiast who has lived the student life in some of Canada's most multicultural cities. She holds a Bachelor of Science in both Psychology and Applied Human Nutrition. She is a registered dietitian whose past struggles with eating well on a small budget inspired her to help students feel the benefits of a nourishing and delicious diet and optimize their wellbeing during some of life's most stressful years. Her recipes are sourced from a love for home cooking and sharing with friends far and wide and from a value for health and wellness. They are perfect for a generation that appreciates the richness of ethnically diverse cuisine. She lives in Halifax. This is her first book.