Wake Up, City! (Hardcover)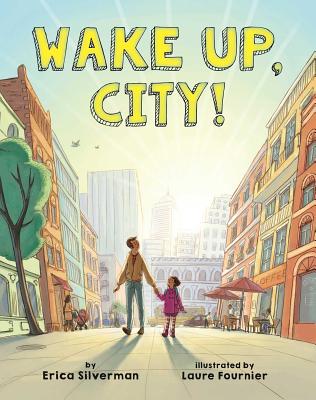 $18.69
Usually Ships in 1-5 Days
Description
---
In this beautifully illustrated picture book, one little girl and her father are on their way to school as the whole city wakes up around them!

The gumdrop sun rises high

in the cotton candy sky.

A woman stretches. She starts to run.

The city morning has begun!

The city is still fast asleep when a young girl and her father leave the house. But slowly, little by little, light starts to creep up over the buildings, and the city starts to wake up. As they walk through the drowsy streets, a woman begins her morning jog, street sweepers clean up the roads, stores begin to open, and food deliveries are made to stores and restaurants. Join these two on their morning walk to school through the city in this beautifully illustrated picture book.
About the Author
---
Erica Silverman is a librarian and the author of several books including Big Pumpkin, When the Chickens Went on Strike, which was a Sydney Taylor Honor book, and Sholom's Treasure, which won the Sydney Taylor Award and was a runner-up for the National Jewish Book Award. Her books have received the Oppenheim Toy Portfolio Gold Award, the California Young Reader Medal, ABA Pick of the List, and the first book in her early-reader series Cowgirl Kate and Cocoa won the Theodor Seuss Geisel Honor. She lives in Los Angeles, California. You can find out more about Erica at ericasilverman.com.

Laure Fournier was born in Antibes, France. She studied in the Emile Cohl School of Art in Lyon (France) before continuing her studies at Swindon College in England. Since graduating, she has worked as a children's book illustrator. She regularly goes to Burkina Faso in Africa, making bronze sculptures that also serve as inspiration for her illustrations.
Praise For…
---
The day-to-day activities that make the world go round may be "wallpaper" for adults, but they hold a world of wonder for children. Using rhyming couplets, Silverman brings readers along on a walk to school that begins before first light, the quiet of a sleeping cat and empty park benches giving way to the bustle of a day in the city. Holding hands with her father, the young protagonist looks everywhere and sees everything. Garbage trucks and street sweepers, the pretzel cart, and the juxtaposition of a busy gym and a dark toy store are seen through fresh eyes. By the time the girl arrives at school, her curiosity has been awakened and she's ready to learn. Fournier's soft-focus digital images are well matched to the story's gentle rhythm. Useful on many levels, this title will awaken the curiosity of children who see morning mostly through the back window of a car and those lucky enough to make similar trips of their own. VERDICT: Silverman's simple rhymes include enough onomatopoeia, imagery, metaphor, and rhythm variance for a primary grade poetry lesson and are entertaining enough for a fun independent read. A sweet, recommended title.
— School Library Journal

As a young girl and her father journey to an easily guessed destination, the sun rises and the city starts it day. The journey begins before dark in the entryway of a brownstone: the young girl pulls on her pink boots while her dad puts on his jacket. The streetlamps are still aglow, and "rows of cars sleep tail to nose" as they round the corner and enter the park. But as they exit the other side, "something changes. Something shifts. / Like a curtain rising, darkness lifts." And the things the two see will surprise no city dweller: a street sweeper and garbage truck, a runner, people walking dogs and hosing sidewalks, store gates rising, deliveries. But the two must hurry the last few blocks-they are late! (This has been an awfully long walk, apparently.) The little girl is a mixture of urban confidence and childish innocence, her father seemingly enjoying the quiet morning time. While the two appear to be white, the people in the city around them (and in the classroom at the end) are nicely diverse. A different view of a city (and of getting to school) than is usually presented, this is sure to be a hit, in rural and urban areas alike. (Picture book. 4-8)
— Kirkus Reviews

A girl and her father leave home before daybreak to walk down their dimly lit sidewalk, through a nearby park, and toward bigger buildings. Then, "like a curtain rising, darkness lifts," and sunlight changes the city as the day begins. As the father and daughter walk on, more people appear around them, a diverse population of dog-walkers, construction workers, storekeepers, gardeners, exercisers, truck drivers, cyclists, and students, all starting the day in their individual ways. Silverman records the scenes in rhymed couplets: "Store gates roll up. Clatter! Clang! / Van doors open with a bang. / Out come apples, yams, and beets, / and trays of doughnuts that smell so sweet!" A French illustrator, Fournier creates appealing cityscapes that feature clean lines of streets and buildings in scenes that gradually, subtly brighten as the sun rises. The compositions are varied, and the use of color is pleasing. A straightforward but evocative introduction to morning in the city.
— Booklist