On the Road Less Traveled: An Unlikely Journey from the Orphanage to the Boardroom (Hardcover)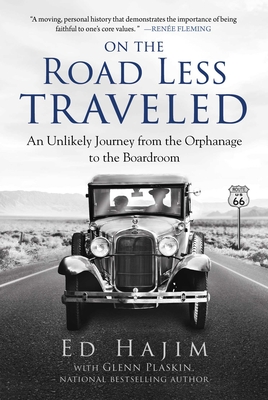 $24.99

Usually Ships in 1-5 Days
Description
---
A powerful story touched with family trauma, deprivation, and adversity balanced by a life of hard work and philanthropy!

On the Road Less Traveled is the inspirational story of Edmund A. Hajim, an American financier and philanthropist who rises from dire childhood circumstances to achieve professional success and personal fulfillment. At age three, Hajim is kidnapped by his father, driven from St. Louis to Los Angeles, and told that his mother is dead. His father soon abandons him in order to seek employment—mostly in vain—leaving his son behind in a string of foster homes and orphanages. This establishes a pattern of neglect and desertion that continues for Hajim's entire childhood, forever leaving its mark. From one home to another, the lonely boy learns the value of self-reliance and perseverance despite his financial deprivation and the trauma of being an orphan.

As time passes, Hajim displays a powerful instinct for survival and a burning drive to excel. A highly motivated student and athlete, he earns an NROTC college scholarship to the University of Rochester; serves in the United States Navy; works as an application research engineer; then attends Harvard Business School, where he finds that the financial industry is his true calling. So begins his rapid ascent in the corporate world, which includes senior executive positions at E. F. Hutton, Lehman Brothers, and fourteen years as CEO of Furman Selz, growing the company more than tenfold. He also creates a happy and abundant family life, though he never forgets what it means to struggle. At age sixty, he is reminded of his painful past when a family secret emerges that brings the story full circle.

 
About the Author
---
EdHajim, the son of a Syrian immigrant, is a seasoned Wall Street executive with more than fifty years of investment experience. He has held senior management positions with the Capital Group, E. F. Hutton, and Lehman Brothers before becoming chairman and CEO of Furman Selz. Hajim has been the cochairman of ING Barings, Americas Region; chairman and CEO of ING Aeltus Group and ING Furman Selz Asset Management; and chairman and CEO of MLH Capital. In 2009, he became president of Diker Management and is now the nonexecutive chairman at HighVista Strategies. In 2008, after twenty years as a trustee of the University of Rochester, Hajim began an eightyear tenure as chairman of the university's board. Upon assuming that office he gave the school $30 million—the largest single donation in its history—to support scholarships and endow the Edmund A. Hajim School of Engineering and Applied Sciences. Through the Hajim Family Foundation, he has made generous donations to organizations that promote education, health care, arts, culture, and conservation. In 2015, he received the Horatio Alger Award, given to Americans who exemplify the values of initiative, leadership, and commitment to excellence and who have succeeded despite personal adversities. Hajim earned a BS in chemical engineering from the University of Rochester and an MBA with distinction from Harvard Business School. The father of three children and grandfather to eight, Hajim and his wife, Barbara, split their time between Key Largo, Florida, and Nantucket, Massachusetts.
Praise For…
---
"Ed Hajim's On the Road Less Traveled is truly inspirational, a moving, personal history that demonstrates the importance of being faithful to one's core values.  His determination and conviction that 'education is the passport to a better future,' combined with his genuine care for others, offer a road map for a life well-lived."   —Renée Fleming

"From tragedy to triumph. Ed Hajim takes us from orphanage living to graduating with honors from Harvard Business School, to the pinnacle of the financial world and beyond. Through it all we meet an incredibly thoughtful and just plain smart person who admits his failures, maintains his hard-won values and makes an important contribution to both the financial world and the world of large non-profit institutions, particularly the University of Rochester. Ed shares with us his philosophy of success, his delight in his family, his love for his wife Barbara, and the amazing tale of how he finally found his mother. Combine this with an account of the workings of the institutional money management world of the last 50 years and you have a book that is hard to put down."
—Cathy Minehan, former president of Boston Federal Reserve Bank
"Prepare to be deeply moved by On the Road Less Traveled." —Dr. Dale V. Atkins, psychologist

"Ed Hajim's life story makes Horatio Alger look like an under-achiever." —Ken Roman, former CEO of Ogilvy & Mather

"The Ed Hajim story should be a 'must-read' in every school in the US! This is the touching American dream story of a young boy raised in orphanages who, through natural ability and determination, achieved great success in business and in life and then gave back. A very inspirational read."
—Barbara Hackman Franklin, 29th US Secretary of Commerce

"Like Horatio Alger, Ed Haijim's story inspires. Whereas Horatio Alger was fictional, however, Ed is the real deal. His authentic and engaging book details his journey from parental abandonment and abject poverty to the pinnacles of success in the finance industry while sharing his hard-won lessons learned along the way. Ed epitomizes the eminent orphan documented by Malcolm Gladwell—someone who is able to turn great disadvantage into strength and success." —Mark Zupan, president of Alfred University

"There are rare memoirs that tell us something about who we are as a people and what we are capable of accomplishing, no matter what adversity confronts us. Ed Hajim's On The Road Less Travelled is one of them.  This narrative is not just a Horatio Alger "rags to riches" tale. It's a story of the will to overcome the kind of adversity that can crush the spirit…but not this one.  If you need a little inspiration in a time of despair, this is the book for you. It's part of American history." —Sol Gittleman, professor and provost emeritus at Tufts University

"Edmund Hajim's life story is the quintessential Horatio Alger experience. The author is a formidable storyteller who holds nothing back. Edmund bares his soul and in doing so, reaffirms our faith in the American Dream." —A. Charles Baillie, OC, retired chair and Chief Executive Officer, TD Financial Group; chancellor emeritus, Queen's University; and author of Agents of Empire: From the Highlands to Hindostan

"The Road Less Traveled is a captivating story of dedication, grit and hard work overcoming hardship and struggle; of the value of education to change one's lot in life; of trusting one's gut and taking risks; of being a leader in the true sense of the word; and, most of all, of the importance of family. This book, chronicling Ed's journey, will engage and inspire you to be ever better." —Wendi Heinzelman, professor and dean of the Edmund A. Hajim School of Engineering and Applied Sciences at the University of Rochester

"Hajim's is the memoir of a life of greatness wrapped in humility. Like a riveting novel, written expressively and expansively, it captivates the reader. For those who are aspirational, this will add fuel to your inner fire." —Ralph Kuncl, president of the University of Redlands

"Ed Hajim's The Road Less Traveled does full justice to a remarkable life lived by a remarkable man.  As one who had the chance to work closely with him during his eight years as Chair of the Board of the University of Rochester when I was President, I am thrilled that this memoir fully captures the intense drive, the determination, the joys and passions of a great man.  Read it!  You will learn much about why one man who began with nothing achieved so much and did so much for so many." —Joel Seligman, president emeritus of the University of Rochester

"While his childhood travails of loneliness, isolation, and poverty would have broken most people, Ed channeled his survival instincts and conquered his inner demons to become a loving family man and a beloved leader of people. . . This book gives us the gift of Ed Hajim's wisdom with timeless lessons." —Raj Echambadi, Dunton family dean at D'Amore-McKim School of Business, Northeastern University

"Ed's book chronicles a spectacular and inspiring story of love, life, and the human spirit."
—Robert L. Clark, provost and senior vice president for research at the University of Rochester

"Look no further than Ed Hajim's moving memoir about truth, love, and the dream we call America. In Ed's voice we are forcefully and beautifully reminded that achievement is nothing without family, that loss can be a gateway for a live well-lived, and, most of all, that our America—the America that welcomes all people wiling to work for their slice of the pie—is profoundly alive and well." —Andrew Lippa

"An extraordinary account of an extraordinary life lived out in extraordinary circumstances."
—Midwest Book Review