The Rage of Dragons Lib/E (Compact Disc)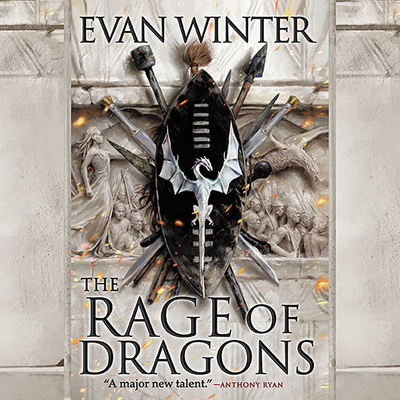 "Where we fight.....the world burns!"
If you haven't read The Rage of Dragons by Evan Winters yet, do yourself a favor and go read that immediately! You won't regret it and it will get you one step closer to being able to start The Fires of Vengeance.
I have been working on a goal to diversify my reading, ensure I am reading plenty of works by BIPOC authors, and to make sure to incorporate books that have diverse characters because representation definitely matters.
What struck me and made me so excited about Evan Winter and The Burning series before I even started the books was an interview with him where he stated:
"But the reason my thinking actually turned to writing, when it so often doesn't, was because of my son. I wanted him to have this story because, when I was growing up, it didn't exist. I wanted him to have an epic that regarded the world from a vantage point closer to his identity and his humanity."
All this to say this is a series that I recommend to everyone who will listen and will re-read them throughout the years. I cannot wait for the third installment of this 4 book series.
Dear Evan,
I just finished The Rage of Dragons and am devastated it's over. I am a fan of fantasy and have read a lot over the years. My favorite fantasy authors are Neil Gaiman, N. K. Jemisin and Nnedi Okorafor. You are now easily my favorite. Your world building is outstanding, the representation for those underrepresented for far too long in the fantasy genre is amazing and so appreciated, your demons in isihogo are nightmare inducing and fresh, and Tau is a phenomenally complex main character. Representation matters and you brought your A game showing diversity of characters. I need more than 5 ⭐️ for this one.
Thank you,
Erin
The Burning Series follows lead character Tau, part of the Omehi people who are divided into two Chosen Castes, the Nobles and the Lessers. Tau, a member of the Lesser Caste, dreams of more for his life, encounters blow after blow that drives anger, rage and eventually vengeance.
With the racial and social unrest in the United States, the dynamic between the Lessers and the Nobles was really fascinating to read through the current lens. I couldn't help but draw comparisons to the racial injustices in America today.
"Where did Lessers stand in a world of dragon callers, colossal warriors, and illusion-wielding tribespeople went to war again immortals?" Where do they stand? In a place of strength, power, and inspiration. I would rather stand shoulder to shoulder with the Lessers than the Nobles any day of the week!  
With everything happening in the US now, these books really made an impact for me and were thought provoking far beyond a traditional fantasy series. If you are a fan of fantasy books, looking to get started in the genre, or are looking for diverse characters in an epic fantasy series, I urge you to go with Tau on his journey of pain, loss, war, friendship and ultimately finding the "family" that has his back through it all!
— Erin Dewsbury-Ribeiro
Description
---
Game of Thrones meets Gladiator in this debut epic fantasy about a world caught in an eternal war, and the young man who will become his people's only hope for survival.The Omehi people have been fighting an unwinnable fight for almost two hundred years. Their society has been built around war and only war. The lucky ones are born gifted. One in every two thousand women has the power to call down dragons. One in every hundred men is able to magically transform himself into a bigger, stronger, faster killing machine.Everyone else is fodder, destined to fight and die in the endless war.Young, gift-less Tau knows all this, but he has a plan of escape. He's going to get himself injured, get out early, and settle down to marriage, children, and land. Only, he doesn't get the chance. Those closest to him are brutally murdered, and his grief swiftly turns to anger. Fixated on revenge, Tau dedicates himself to an unthinkable path. He'll become the greatest swordsman to ever live, a man willing to die a hundred thousand times for the chance to kill the three who betrayed him.The Rage of Dragons launches a stunning and powerful debut epic fantasy series that readers are already calling the best fantasy book in years.