Leading Wise: Inspirational Reflections for Corporate Leaders (Hardcover)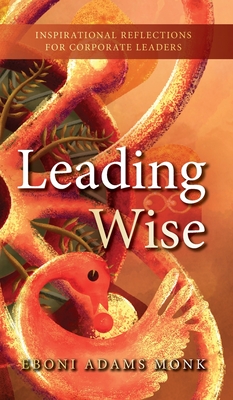 $23.99

Usually Ships in 1-5 Days
Description
---
Shift your perspective and transform your leadership with inspirational wisdom.
Inspiration that empowers you to reflect on your power as a corporate leader, deepen your leadership, and lead in a more authentic way. Powerful and deeply impactful prose take the reader on a powerful journey of inner connection and reflection on the path to wise and balanced leadership. Rooted in the philosophy of wisdom traditions, this uplifting guide connects culture, spirituality and business leadership and is a powerful tool for leadership development and personal transformation that belongs on every leader's bookshelf. Leading Wise touches and nourishes the wisdom of leadership that exists within each of us, freeing it to blossom. Yes, corporate leaders can be intentional, authentic and aligned with purpose as they lead and rise in their organizations. Leading Wise is the mirror that reveals your inner wisdom along the way.
Leading Wise features:
- Inspirational prompts ―Discover simple, effective reflections, mantras and personal inquiry for authentic and transformational leadership
- Global perspective―Draws on experiential wisdom from cultural and spiritual communities that value purpose and community
- Affirmations for leaders - Powerful statements to reinforce the wise leadership principles
- Journal Pages- Capture your own reflections and thoughts as you absorb each word into your mind, heart and soul
The gift of leadership through reflection, inspiration and affirmation awaits you with Leading Wise.