Credit Score: How to Overcome the Fear of Getting Denied. The Best and Fastest Ways to Raise Your Credit Score to at least 725 Get a (Paperback)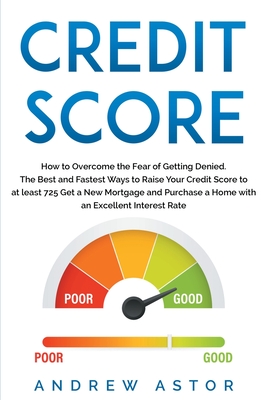 $19.95

Usually Ships in 1-5 Days
Description
---
What if you could overcome the fear of being denied when asking for a loan?
How good would it be if you could decrease interest rates and stress caused by debts?
Credit scores are used by banks providing mortgage loans, credit card companies, and even car dealerships financing auto purchases to decide whether or not to offer your credit and the terms of the offer.
That's why you have to learn how to manage a good credit score to abate interest rates and stress of debts.
You can to that thanks to this book:
"CREDIT SCORE: How to Overcome the Fear of Getting Denied. The Best and Fastest Ways to Raise Your Credit Score to at least 725 Get a New Mortgage and Purchase a Home with an Excellent Interest Rate" by Andrew Astor.
Here's a little preview of the content:
Why having a strong credit score is the key to a stress-free life
What is influencing your score
Charge Card Vs Credit Card and Personal Vs Business Credit Card
How long does negative information stay on your credit report
What are the best and fastest ways to build up your credit score
The reason why you should aspire to a score of at least 725
How to keep your score healthy in a simple way
...and much more...
No Need To Stress Over Your Future Plans...
... Order Your Copy and Secure Them